Generosity at Gran Pacifica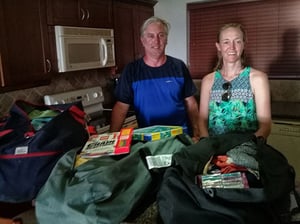 Sean and Cory Glackin have been traveling for a good number of years together and as a family with their two children. Recently, while packing for a trip to Gran Pacifica Resort in Nicaragua, they all combed through their closets looking for items to donate as well as purchased some new school supplies.


For All You Foodies Out There - Nicaragua Has Some Must-Tries!
Not only is Nicaragua known to be the Country of Lakes and Volcanoes, it is also known to serve up some of the most delicious cuisines in Central America.


Nicaraguan Healthcare: One Major Component
Nicaragua is at the top of many people's lists as a desirable country for relocation in their retirement years – regardless if their retirement is just around the corner or several years out. So what makes retiring in Nicaragua so compelling?


El Progreso: A Bank for the Gran Pacifica Resort Team
Dear Friend,
ECI Development is always looking for ways to enhance communities and serve others by giving back whenever possible. One of the many ways we are of service is in our partnership with Pack for a Purpose, a non-profit company based out of North Carolina. PfaP encourages travelers to make room in their bags for useful items and clothes that others may need in the country they are visiting.
After packing for a purpose, be sure you visit Nicaragua with a healthy appetite. This beautiful country offers and serves up some of the most delicious cuisines in Central America, and it all starts with a tasty breakfast of Gallo Pinto. Yum...
Many folks who are close to retirement are looking for ways to make their retirement dollars stretch. One way is through affordable healthcare. You may want to look into Nicaragua for a full or part time retirement home. Retirement in this country will help your budget in many ways.
At Gran Pacifica, an employee bank called "El Progreso" was recently established. Our employees will be able to save and borrow funds as well as learn more about the importance of budgeting, balancing a checkbook, and saving for the future. I'm very excited by this program and hope it becomes a model of success for other businesses in Nicaragua.
Until next time,
Michael K. Cobb